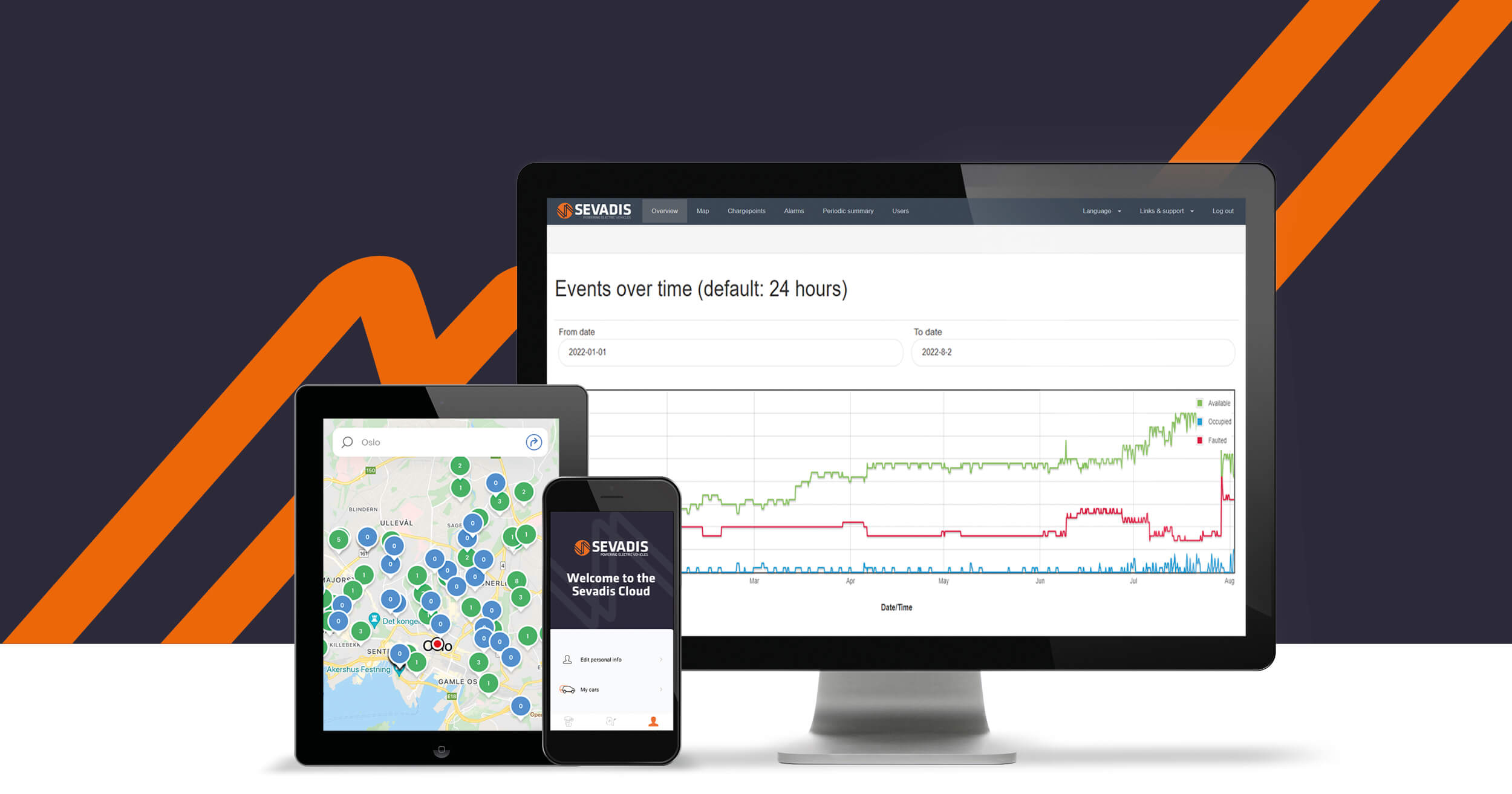 One of the key considerations when installing electric vehicle charging points is how will the charge point operator manage their network of EV charging points. The Sevadis Cloud is designed to offer workplaces, fleets and public destinations a streamlined charging solution, providing charge point operators with complete control and full flexibility over their charging points.
With the combination of Sevadis' electric vehicle charging points and the Sevadis Cloud, businesses and organisations are provided with ample opportunities to maximise their charge point investment.
Sevadis Cloud Benefits to Chargepoint Operators
Customisable Tariffs
Charge point operators (CPOs) can set various user tariffs to suit the requirements of their business/organisation. For example, CPOs can offer a set tariff for employees whilst offering visitors and customers the facilities to recharge their electric vehicles at a rate that recoups the cost of energy consumption. Tariffs can be altered as and when requirements change, meaning that CPOs have complete control over the costs of their charging.
Remotely Control Chargepoints
With the ability to control and manage their EV charging points anywhere, anytime on any device, CPOs can understand which chargers are being used, who to allocate charging to and when the charge points need to be free for drivers to recharge. For example, if a charging point is required for a fleet driver, the charging point can be made inaccessible for other EV drivers.
Multi-Site Visibility
For businesses and organisations with multiple sites, the Sevadis Cloud is the perfect smart back-office management system that enables CPOs to understand the charging behaviour and activity across all locations under a singular platform.
Reporting & Analytical Feedback
Understanding electric vehicle charging costs, savings and consumption couldn't be easier with the Sevadis Cloud. CPOs are easily able to identify key metrics to analyse the usage of their EV charging points. Reports are also downloadable.
Automatic Fault Notifications
Be in the know about the status of your network of EV charging points with the Sevadis Cloud's automatic fault notification feature. Understand in real-time when electric vehicle charging points are faulty, allowing you to take action quicker.
'Over the Air' Firmware Updates
With the Sevadis Cloud being OCPP compliant, CPOs can benefit from always operating on the latest version of the platform. This accessibility means that no manual labour is required for software or firmware updates.
Sevadis Cloud Benefits to Electric Vehicle Drivers
Mobile Phone Activation
The Sevadis Cloud provides electric vehicle drivers with a seamless charging experience by allowing them to recharge their EVs using the easy-to-operate Sevadis Cloud app which is downloadable from the Apple Store and Google Play Store.
RFID Activation
For electric vehicle drivers who are authorised to charge their EVs using an assigned RFID card, they simply have to tap their RFID card on the electric vehicle charging point to activate their charging session.  
Easy & Secure Payment
By registering payment details on the Sevadis Cloud app, electric vehicle drivers can pay for their charging sessions with the tap of a finger.
Statistics & Analytics
Drivers who are registered with the Sevadis Cloud app are provided with access to statistics and analytics that allow them to understand their historical and real-time charging behaviour.
Exportable Data
Electric vehicle drivers who are registered with the Sevadis Cloud app can also download their charging data, enabling them to use the data for expenses or BiK (Benefit in Kind) claims with their employer.
Live Notifications
Sevadis Cloud app users can also benefit from real-time notifications, allowing them to understand when their charging session is completed or when their vehicle is sufficiently charged.
Choose the Sevadis Cloud
The Sevadis Cloud is ideal for businesses and organisations that want convenient control and management of their network of charging points, whilst having the desire to offer electric vehicle charging facilities to their EV-driving employees, visitors and customers at a cost.
Want more information about Sevadis Cloud?
Read more info on the Sevadis Cloud page