MaxiCharger Awarded Prestigious Red Dot Award For Product Design
We are so excited and proud to announce that the popular MaxiCharger has been awarded the prestigious Red Dot 2022 Design Award for its design excellence.
The Red Dot Design Award is a sought-after accolade with brands such as Polestar, Apple, Porsche and Bose recognised for their design excellence in previous years.
Sevadis collaborated with Autel to design and develop the MaxiCharger to meet the requirements of the UK market, providing electric vehicle drivers and businesses with a simple, straightforward and seamless charging experience.
The international jury of competent product design professionals acknowledged the MaxiCharger's high-quality design, aesthetic and capabilities. The collaborative design of the MaxiCharger removes the pain points of other electric vehicle chargers on the market. The MaxiCharger is an electric vehicle charging system that is easy to install, aesthetically pleasing and future-proofed for the ever-evolving electric vehicle industry.
To be awarded the coveted Red Dot Design Award is a testament to the team's commitment and dedication to delivering an electric vehicle charging solution that is fit for purpose, fit for the market and fit for the future.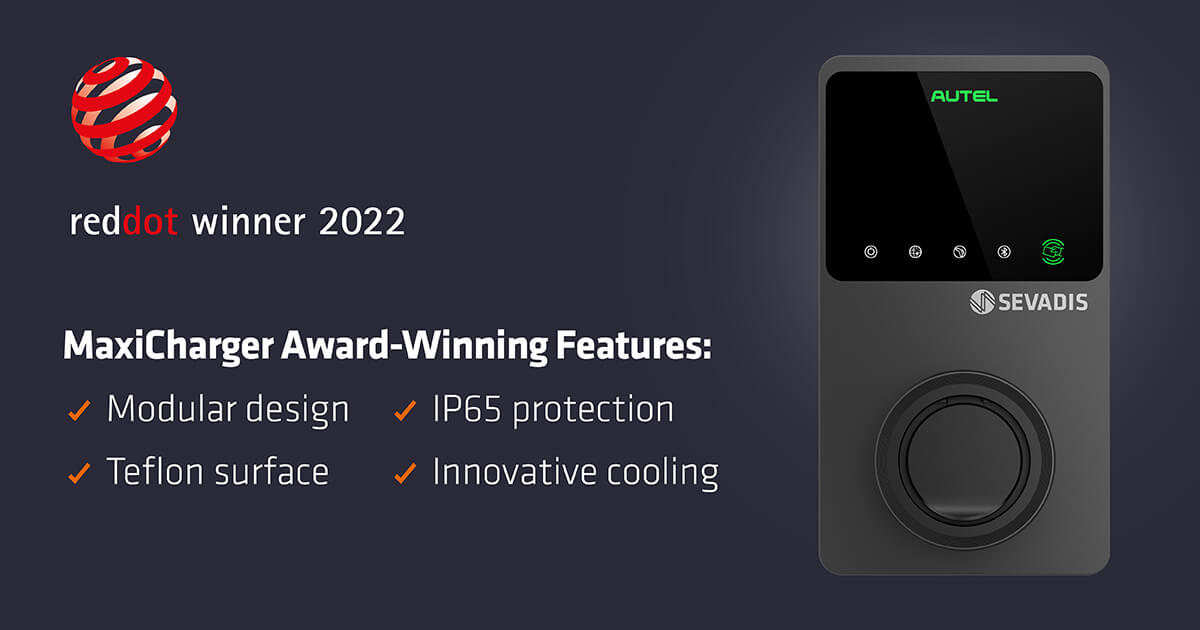 MaxiCharger award-winning features:
Modular design for simplified installation and maintenance

Teflon surface provides a sleek texture

IP65 protection allows installation and operation outdoors

The innovative cooling design keeps the temperature at full power, lower than the industry average by 10°C

Customisable fascia, providing consumers with the choice to suit their tastes
Dr Peter Zec, CEO & Founder of Red Dot Design Awards, said:
"The fact that you emerged victorious from such a strong group of participants is testimony to the extraordinary quality of your product."
Craig Slater, Managing Director of Sevadis, said:
"The MaxiCharger being recognised for its design is exactly why we partnered with Autel to introduce the MaxiCharger to the UK market. It is an absolute honour to have been awarded the Red Dot Design Award this year. Both Sevadis and Autel have worked diligently to develop a charger suited for various charging requirements. I am immensely proud of those involved in the design, development and delivery of the increasingly popular MaxiCharger."
Find out more about the MaxiCharger